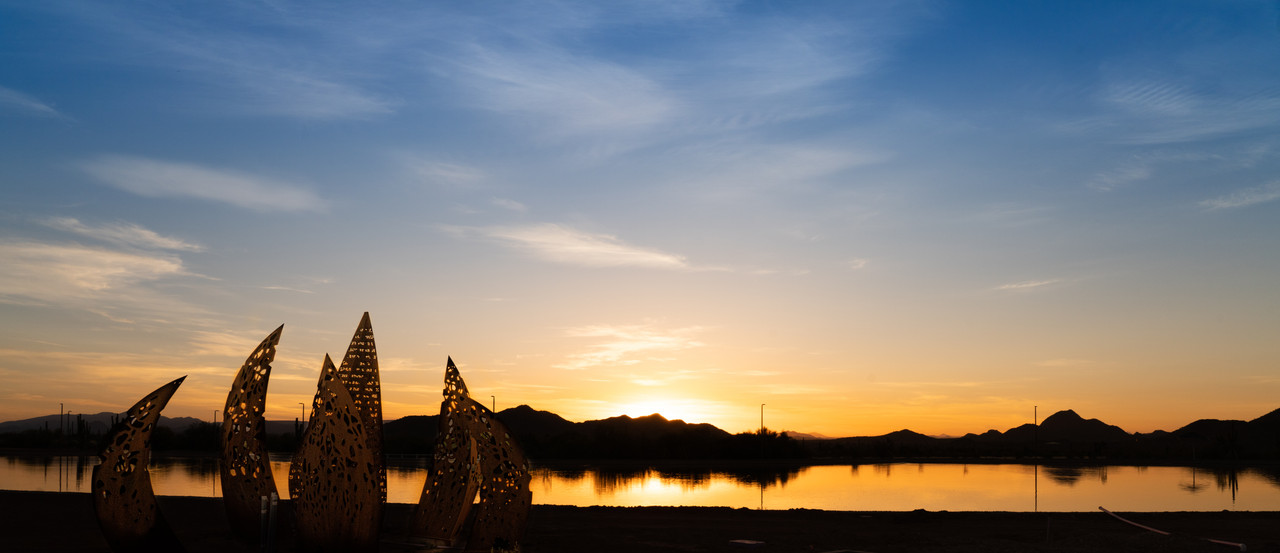 Call for Artists / Request for Qualifications (RFQ)
Deer Village Park Public Art Project

Total Project Budget: $50,000

OVERVIEW
The Peoria Arts & Culture Department invites artists and artist teams to submit qualifications to be considered for a permanent public art opportunity located at Deer Village Park in Peoria, Arizona. The final selected artist will create a permanent art installation at the site. Artists working in the states of: Arizona, California, Colorado, Utah, Nevada, and New Mexico; United States, who have experience designing, fabricating, and installing projects with a similar budget and scope, are encouraged to apply.
Peoria Arts & Culture is seeking to contract with an artist to design, fabricate, and install artistic features at Deer Village Park. Deer Village Park is located at 21217 N. 88th Lane, Peoria, AZ 85382. Peoria's 36 neighborhood parks offer unique playgrounds, basketball, pickleball and tennis courts, dog parks, and restrooms.
Possibilities for Public Art include, but are not limited to: Free standing sculpture, kinetic sculpture, functional or interactive artwork. Experience creating functional or interactive artwork is highly desired.
The artwork must be of durable, vandal-proof, weather-resistant and low-maintenance material, suitable for an outdoor desert environment. The design and materials must mitigate any potential hazard to the public, such as no sharp, or protruding elements. The artwork must not be religious or political in subject matter.
Applications are due by Monday, January 30, 2023, at 11:59 p.m. MST (AZ)
BUDGET
The artist or artist team with the final selected proposal will be awarded a contract of up to $50,000. The artist or artist team will be responsible for artist fees, insurance, engineering, fabrication, and installation, and any site preparation and restoration, permitting, travel, meeting with City of Peoria staff as necessary, contingencies, and all related incidental expenses.
ELIGIBILITY
This project is open to applicants regardless of race, gender, gender identity, sexual orientation, religion, nationality, or disability. Teams of artists, designers, and/or engineers are welcome to apply. Maricopa County area artists are encouraged to apply. Incomplete, ineligible, or late submissions will be deemed ineligible and will not be considered.
APPLY
Please submit the following via Submittable. Only application received through Submittable will be reviewed:
A brief statement of interest, limited to two pages, by the artist or principal contact (for artist teams). Please address reasons for interest in creating artwork for Deer Village Park, and a summary of the artist's or team's experience with similar projects.
A resume or CV (for each team member, when applicable) demonstrating relevant work experience and training.
2 professional references.
8-10 Sample Artwork Images – please show relevant work samples. Must have completed at least two large-scale works with budgets of $50,000 or greater.
Image citations describing each completed work that you submit for reference. Citations should include a brief description including name of project, year of installation, material(s), location, budget, and any other relevant project information.
EVALUATION
The selection criteria shall include, but is not limited to: the professional qualifications of the artist/artist teams as evidenced by the supporting materials, proven ability to undertake projects of the described scope, artistic merit and superior caliber craftsmanship as evidenced by the images.
Application will close Monday, January 30, 2023, 11:59pm. No applications will be accepted after this time. Do not submit a project proposal or design at this time.
ANTICIPATED PROJECT SCHEDULE:*
November 21, 2022: RFQ opens
January 30, 2023: RFQ closes
February 2023: Selection committee reviews submissions
Late February 2023: Finalist notifications, interviews
March 2023: Artist selection and contract development
March – May 2023: Design and approval
June – October 2023: Fabrication, site prep, and Installation
December 2023: Project complete
*Schedule and timeline are subject to change.
Your participation in our City of Peoria,
Arts & Cultural Survey will help us establish priority and pertinent programming for each Community we serve. Thank you!